This week we have been studying the sense: hearing. We learned about letter-sounds, animal sounds and sounds we hear in the environment. Also, I checked out a sounds kit from our resource room and here are some of the activities included in it:
We used a peg board similar to this with different size and width rubber bands to compare the different sounds they make.
These are really cool. Children shake wooden cubes to hear each unique rattling sound and find its match.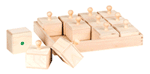 Spin these bad boys around real fast and they make a whistling sound. The kids love it!
4-Sorting (Makes noise vs. doesn't)
This activity is pretty self-explanatory.