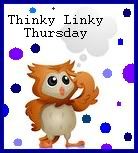 First of all, I would like to thank everyone for clicking on links throughout the last week! There were a total of 77 clicks, the most to date. I am so glad that Thinky Linky Thursday is helping spread the love around to some really great blogs and sharing such wonderful ideas!
So... Here are the most clicked links:
Place Value Plastic Eggs from Meaningful Mama
If you were featured, please take a button below:
Thanks to everyone who contributed for sharing your lovely ideas!